Nonconformist artists in the GDR?
The situation of Artists in the GDR showes many similarities with the one of their Russian fellows. The contracting entity was the state itself, which awarded contracts almost exclusively to artists that were members in the so-called Verband der bildenden Künstler der DDR (VBK), a professional association for artists. The works commissioned by stately organs show that the definition of how art should look like and which puposes it should have were defined quite narrowly.
Artists that wanted to work outside of this enclosed system had to suffer financing problems. Again, it is important to say that there has never been censorship. However, the boycott of exhibitions and the lack of contracts made it difficult to be an artist without being member of the VKB. Already the purchase of canvases and brushes proved to be expensive (due to centrally planned economy).
That means there were five different possibilities besides the VBK: 1. being a teacher, 2. paint murals or make adverstising art, 3. have connections (e.g. to West German art dealers), 4. move to West Germany (many artists like Sigmar Polke, Gerhard Richter or Volker Stelzmann fled to the West, but in the course of time this became more and more difficult) or 5. have another job and work artistically in your leisure time.
When Erich Honecker's became the new leader of the GDR (replacing Walter Ulbricht after a political power struggle with Soviet support) the situation impoved temporarily. "Weite und Vielfalt" (vastness and diversity) became the slogan of the new policies. Honecker said that there should not be taboos in the filed of art and literature. For many artists this alleged liberation appeared to be the beginning of a new, free art.
Only few years later many artists fell into deep depression, after the scandal of Wolf Biermann's deprivation of citizenship. Biermann is a German song-writer and singer. Hos conconformist views on the reality of the GDR alarmed official organs. In 1964 he was denounced as a class traitor and was forbidden to perform his songs. In 1976 he started an (officially authorized) tour to West Germany, which became a justification to strip Biermann of his citizenship. This provoked heavy protests by German (both East and West) intellectuals. It became more than obvious that the proclaimed liberty (vastness and diversity) was not as free as artists thought it might be. Some artists turned to subjective, in some way encoded, metaphorical paintings, others promoted a culture of resistance.
Still artists had to limited possibilities. However, the cultural policy had become more opened. Artists that made concrete artworks (e.g. by Karl-Hein Hornig) got some (however, still limited) possibilities to display their works. Inofficial galleries opened, illegal exhibition were organised and inofficial newspapers were printed, but the Ministry of State Security of the GDR observed all of these actions and sometimes intervened.


Artist group "Lücke"
One could call this situation schizophrenic. On the one hand the GDR cultural policy proclaimed a new openness, on the other hand the real art world still was determined by VBK-members, a strong attachment to the tradition of socialist realism and repressions.

One example that can illustrate this is the artist group "Die Lücke" (Lücke means gap but also should remind of the name of the famous artists group "Die Brücke"). The group was one of the first official, independened artists group in the GDR. It was founded by Harald Gallesch, Steffen Kuhnert, Wolfgang Opitz and Ralf Winkler (better known as A.R. Penck).

They produced substandard films and collective paintings. The group broke up in 1976 due to (official) harassment and (military) call-up orders - (NVA) which doubtlessly was a strategy by GDR officials, especially because the Lücke-members were not called-up at the same time but one after another in order to drestroy the group's unity.

A.R. Penck was watched by the secret police and was considered dissedent. However, his works were included in shows in West Berlin and were seen as exponents of free speech in the GDR. The exhibition of the Lücke-group were not prohibited, but after A.R. Penck received an award by the West Berlin Academy of Fine Arts (Will-Grohmann-Preis) in 1975 his situation got worse. The costums of the GDR seized his works. In 1979 some people broke into his studio and destroyed works. Finally Penck managed to migrate to West Berlin, where most of his purchaser were. One of those art buyers was Peter Ludwig. Ludwig bought artworks especially by nonconformist artists and ensured them financial independence from stately commisions. It was a method to undermine the art system in the communist country.
Using the methods of repression - Mail art in the GDR
About 10% of all letters (between West and East Germany) were opened by state security officials. You could never be sure whether your letters would arrive or not or if they had been opened or not (the methods used by the state security service (Stasi: Staatssicherheit) had been perfected over the time).
At the end of the 1970s a group of autodidactic artists (Jesch, Gottschalk, Giersch, Stange) started to use this situation and began to create "mail art". Their slogan was "No jury! No return! No fee!".
The ideas is as simple as brilliant. It all starts with a project. The artists create postcards: the subject was opened, but always written in English. Then they send the postcards to different international recipients. The recipients design own postcards and send them back. The rewards for this is a jury-free, uncensored exhibition and furthemore a mailing list (with the names of the partaking artists). It is a noncommercial, non-professional art form. Everbody can take part. At the same time spoof the Stasi-methods and make them visible.
DADA in the GDR
Klaus Rudolf calls himself "longest-serving" Dadaist (in German speaking countries).
After 1990 he tried to account for the past with Dada-methods. Once he recorded the documents of the Ministry of State Security of the GDR (Stasi) about himself another time he employed women to crochet a net around him etc.
In 1988 he founded the so-called Art-party (KUNSTpARTei) VOGELFRei in Leipzig (together with a.o. Andreas Telemann, Ingo Regel, Akos Novaky). Their aim was to protest against regime on form of happenings. One of these happenings was a curd-throwing happening. They met at threw curd at each other. Their actions were observed by the Stasi. But what could they possibly have done to prevent it? It was not a critique anyone could have understood. It was nonsense. But at the same time it appeared to be dangerous, was not in line with the official concepts of art in the GDR and it demonstrated (in a somewhat absurd way) the stiffness of the system .
Matthias BAADER Holst
Matthias Holst was a German writer and artist. As a reference to Andreas Baader (German terrorist and member of the RAF - Red Army Fraction) and Johannes Baader (German Dadaist) he called himself Matthias BAADER Holst (Baader written in capital letters).
He was born in 1962 in Quedlinburg, Saxony-Anhalt.
Since 1982 he starts to recite his own Dadaistic-expressionist poems at privat parties or in churchly spaces. The clergyman Neher became a shelter for punks, anarchists and nonconformist artists. They "redecorated" the winged altar-piece in the Church of Christ in Halle (a red-haired Madonna with walkman, dustbins, the famous anarchistic "A" and other insignia of socialist trash-culture). Baader worked and lived in this surrounding and quickly created a specific aura. Some people say he became kind of a "saint" in the Halle-subculture, due to his self-dramatisation and his actions. One example for his actions was his protest during the festivities of 1st of May (International Workers' Day). He put on a gas mask, marched through the crowd and shouted the famous song "The End" by Jom Morrison. He recited his poems in public bars, while he danced on the tables. He walked towards strangers screamed at them, touched them etc. He sang and wrote lyrics for the punk-bands "Die letzten Recken" and "Frigitte Hodenhorst Mundschenk".
But he was not an performance-artist in the first place. Rather it was part of his self-dramatisation and the role he liked to play: antiauthoritatian, rebellious and crazed.
In his poems he used a specific diction: sexual and political expressions (sometimes typical nazi words), keywords of the GDR-system. The combination of these words - in a Dadaist-expressionist manner - "created an absurd-ludicrous world as distorting mirror of a reality full of violence and obscenity" (Erik Steffen).
He died in 1990 after he got hit by tram in Berlin (he died of the injuries one week later). This event promoted his fame. Some say he got murdered by an official, other think he might have commited suicide. However, the reasons for the accident stay unclear.
Performance- and Body-Art
Artists in the GDR were unsatisfied with their limited possibilites. However, modern Western movements were received and copied even in the GDR. Happenings, performances and actions did take place in cities like Berlin, Dresden or Leipzig. One of the artist groups called itself "Autoperforationsartisten" (self-perforating artists). They referred to West European and American body art and Viennese Actionism. Else Gabriel plunched her head into a bucket full of prok blood, Cornelia Schleime tied herself up in strings and ropes - a manifestation of physical and psychological restriction in the repressive state.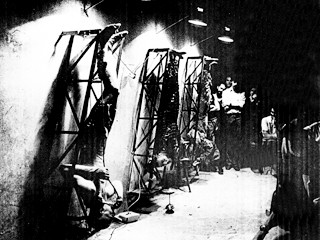 on: www.medienkunstnetz.de
In 1987 they put down a marker and displayed doodles, photos which showed the movements of a worm and a whole bunch of finds, ready-mades and trash. The professors were shocked, but were not punished, maybe they were just too young. To young to be taken serious, yet, old enough to develop an own opinion.Micha Brendel, Else Gabriel, Rainer Görß and Volker Lewandowsky started to make such provocative actions in the mid 1980s in Dresden. In their early years they did not work in public or official spaces. It was an underground art for insiders. Their happenings took place in parks, private flats, churches or cellars.
In 1989 one of their flamboyant actions took place: "Menetekel" (portent). They exhibited beef feet, glued on splinters of glass, installed a giant magnet, which (from time to time) attracted an iron sheet - which made a loud noise.
Another artwork was an aquarium, on the bottom of it the visitor could see a brifade of little workers, a clear critique against the system.
Further literature:
- Eckhardt, Franz; Kaiser Paul (Ed.): Ohne uns! Kunst & alternative Kultur in Dresden vor und nach '89, Dresden 2009
-Lang, Lothar: Kunstzentren in einem kleinen Land, in: Kunst in der DDR (Editor: Gillen, Eckhard), Cologne 1990
- http://www.dhm.de/ausstellungen/boheme/katalog_vorwort.htm